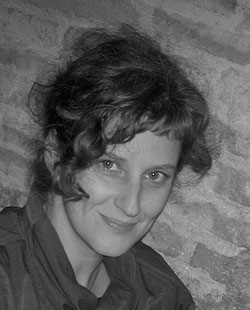 My name is Anne Fauteux. I am a visual artist, jeweller, designer and singer based both in Montreal and Toronto.
After completing a Bachelor of Fine Arts at Concordia University in Montreal (1983), I spent one year in Italy to do a jewellery apprenticeship. Then I moved to London UK where I set up my first jewellery studio on the Thames River. Back in Canada, I opened my jewellery studio/gallery in Montreal in 1986. Later on, I taught jewellery for 10 years in Montreal and Nunavut.
From 1983 to 1999, I have mostly been making jewellery, until I decided it was time to go back to fine arts. Though I still keep my hand at jewellery and furniture design, my primary activity is now in visual arts. My artwork brings together my skills in sculpture, set and costume design, textile, jewellery, and photography. Since 1984, both my jewellery and my visual art work have been shown in North America and Europe in over 70 group shows and 15 solo exhibitions.
My musical adventure started with cello playing in the late '80s, and continued with singing, which I started in the late '90s. Through my traveling and encounters, I've learned many different ways of using my voice, starting from choir blending to overtones and Inuit thoat singing, Georgian harmonies and singing in various exotic languages, vintage pop, to bel canto. The results are Oufti (an a capella girl trio with Samantha Hirst and Laurel MacDonald) and Megobrebi (a twelve-women a capella ensemble), both groups based in Toronto.